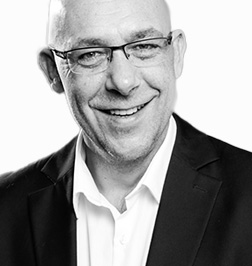 Karsten Klopmann
SAFe SPC, Agile Coach, Dozent für Agilität, Trainer
Ich bin seit mehr als 20 Jahren in agilen Projekten tätig. Produkte schnell und effektiv zu entwickeln, mit gesundem Menschenverstand, ist für mich schon jeher ein Anliegen. Scrum hat mir dazu schon sehr bald den passenden Rahmen geboten. Seit 1999 selbständig, bin ich seit ca. 16 Jahren als Scrum Master, Product Owner oder Agile Coach in skalierten Projekten bis >= 2.500 Kollegen:innen tätig und es bereitet mir jedes Mal Freude zu sehen, wie sich die Teams weiterentwickeln.
Slogan
Those who master delivery in large-scale transformation and transitions will define the economic landscape of the 21st century / Und ich unterstütze euch dabei!
Zur Person
Als Agile Coach implementiere ich bei Ihnen die Transformation, HandsOn transformiere ich Ihnen ihre nicht funktionierende Transformation auf den optimalen Weg, in Interimsbesetzung verschiedener Rollen, coache, trainiere und entwickle ich die vorhandenen Rollen im Rahmen des Relentless Improvements.
Sie transformieren nicht? Sie skalieren nicht? Business Agility möchte sich nicht einstellen? … rufen Sie mich an: +49 1525 4921893
Business Sprachen: Deutsch (Muttersprache), Englisch (fließend)
Schwerpunkte
Agile Transitionen, Organisationsentwicklung & Management Coaching
Digitalisierung & Innovationsmanagement
Agile Entwicklung im sicherheitskritischen Umfeld
Scrum, SAFe und Enterprise Applications (ERP, SAP, u.a.)
Branchen Knowhow (u.a. Telekommunikation/IT, Handel, Logistik, Automotive, Versicherungen und Banken)
Dozent für Agilität an der TH Bingen
Trainer bei der ACC Agile Competence Center GmbH
Zertifikate & Auszeichnungen
Certified by ACC:

Scrum Master, Product Owner, Servant Leadership, Scaled Agile Professional

Certified by © Scaled Agile, Inc. / SAFe

Certified SAFe 6 Practice Consultant
Certified SAFe 6 Release Train Engineer
Certified SAFe 5 Program Consultant
Certified SAFe 5 Release Train Engineer

Enabled by © Scaled Agile, Inc. / SAFe

Agile HR Trainer Enablement
SAFe 6 Training Enablements

SAFe for Architects Trainer Enablement (6.0)
SAFe DevOps Trainer Enablement (6.0)
SAFe for Teams Trainer Enablement (6.0) – German
SAFe for Teams Trainer Enablement (6.0) – English
Lean Portfolio Management Trainer Enablement (6.0)
SAFe Product Owner/Product Manager Trainer Enablement (6.0)
SAFe Scrum Master Trainer Enablement (6.0) – English
SAFe Scrum Master Trainer Enablement (6.0) – German
Leading SAFe Trainer Enablement (6.0) – English
Leading SAFe Trainer Enablement (6.0) – German
Agile Product Management Trainer Enablement (6.0)
SAFe Release Train Engineer Trainer Enablement (6.0)

SAFe 5 Training Enablements

SAFe Advanced Scrum Master Trainer Enablement (5.0) & (5.1)
SAFe for Architects Trainer Enablement (5.1) & (5.0)
Leading SAFe Trainer Enablement (5.1) – German
Leading SAFe Trainer Enablement (5.1) & (5.0) – English
Agile Software Engineering Trainer Enablement (5.0)
SAFe for Government Trainer Enablement (5.0)
SAFe Release Train Engineer Trainer Enablement (5.0) & (5.1)
Agile Product Management Trainer Enablement (5.1) & (5.0)
SAFe DevOps Trainer Enablement (5.1) & (5.0)
SAFe Advanced Scrum Master Trainer Enablement (5.0) & (5.1)
SAFe Product Owner/Product Manager Trainer Enablement (5.1) & (5.0)
SAFe Scrum Master Trainer Enablement (5.1) & (5.0)
SAFe Release Train Engineer Trainer Enablement (5.1)
Lean Portfolio Management Trainer Enablement (5.1)
SAFe for Teams Trainer Enablement (5.1) & (5.0)
Lean Portfolio Management Trainer Enablement (5.0.1) & (5.0)
Agile Marketing with SAFe Trainer Enablement (5.0)

Powered by bg / Boris Gloger

Scrum Advanced, Selbstorganisation braucht Führung, Visual Scrum